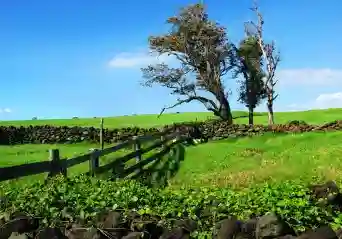 The southernmost tip of tip of The Big Island is also the southernmost edge of the United States of America. And it's quite a beautiful boundary for the US. The windswept cliffs and the deep blue water make this area breathtaking, and the sacred temples and ancient rock carvings make it historic. It's no wonder why Kalae has been named a National Historical Landmark.
It is believed that the first Polynesian settlers landed their outriggers at Kalae. The evidence can be found in the many ruined temples and fishing shrines found here. And you'll still find a small intact heiau temple at the visitor's center, so treat this sacred area with respect.
You can walk right up to the edge of the sea cliffs here, and you can peer across the endless Pacific Ocean. There is no land between Kalae and Antarctica. It's a fact that can make you feel small in a spiritual way, and it makes this landmark incredibly special.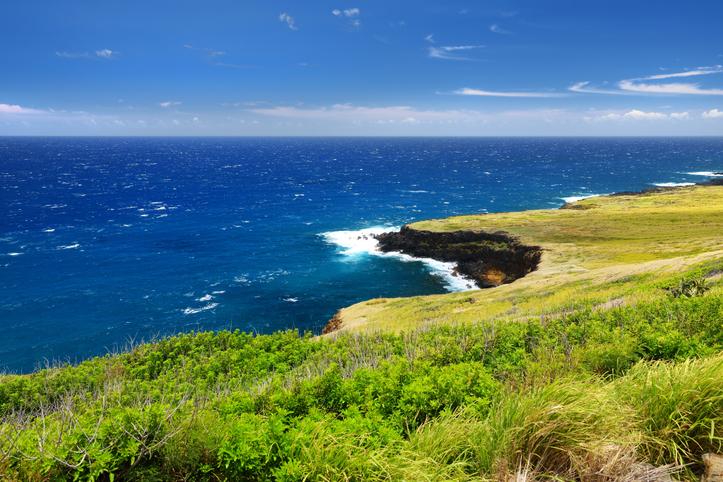 Swimming is not advisable as the Pacific Ocean is rather violent at Kalae, and the cliffs are commonly battered with powerful trade winds. But this hasn't stopped fishermen from devising unique ways to harvest the many fish off the south shore of The Big Island. Along the cliffs, you'll notice notches carved by the ancient Hawaiians that once tethered small fishing boats to the shore. Today, fisherman use toy boats to drop fishing lines or launch small fishing vessels from the rocky shore using special ladders.
Even the drive to Kalae is drenched in history. You'll have to take the narrow South Point Road 12 miles through open cattle-grazing farmland. Cowboys roamed The Big Island a few years before they headed to the Wild West on the mainland United States. Portuguese cowboys were imported to handle the growing cattle numbers in the 1800's, and they brought with them a taste for malasadas. You can still find the sugary, donut-like treat served all over the Big Island today.
One additional point regarding Kalae, find the nearby parking spot and hike to Papakōlea Beach, also known as Mahana Beach or best known as 'Green Sand Beach'.