Black sand beaches giveth, and black sand beaches taketh away. That's because the beautiful black sand is made up of volcanic rock. The rock has been pounded by the waves into gritty bits, but these bits can be rather sharp. Make sure you wear sturdy footwear to this black sand beach, and don't expect to throw down a towel for a comfortable relaxation session.
But black sand beaches are incredibly beautiful and rare. The Big Island features its fair share of black sand beaches because the island continues to grow due to Kilauea's ever-present volcanic activity. The young volcano has been spewing lava ever since the 1980's, and it continues to grow The Big Island by about 40 acres per year.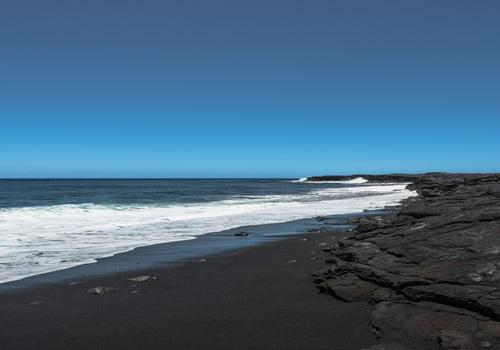 You get unparalleled and otherworldly beauty at Kaimu Black Sand Beach, but you don't get swimming or sunbathing. That's the trade-off at this popular Big Island tourist destination. But you also get a lot of history.
The fishing village of Kalapana used to thrive just inland from this beach in Kaimu Bay. Tourists would flock to the destination for its good food, fine black sand beach and waves. But Kilauea decided to erupt in 1990, and the lava flows tore right through the village and out onto the beach.
It destroyed the town, buried the beach under layers of fresh volcanic rock and created a completely new shoreline. Now, decades later, the beach is starting to resurface as the waves continue to batter the shore.
If you can deal with the gritty sand and you're able to get your head underwater, you'll be able to hear the new sand being formed. You'll listen to the crunch of the lava rocks as they are tumbled by the waves. In a strange way, you have front row seats to the birth of a new black sand beach. A beach where the sandy particles are fine and comfortable. And you can imagine, decades from now, what the beach may look like.