There's a hidden gem of a beach on the northwest coast of The Big Island. It sits near the Kona Village, and it is home to 40 different diving sites. Unfortunately, this beach is not good for swimming.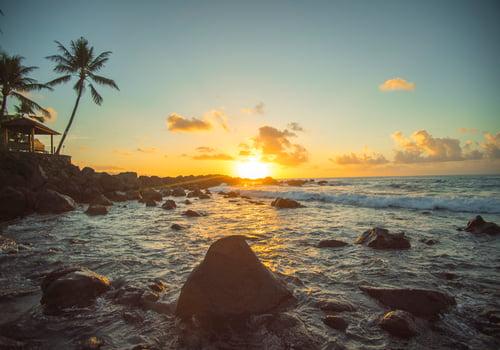 If you're an experienced diver, then head to Kahuwai with your gear immediately. The daytime dive sites are some of the best that The Big Island has to offer. The lava rock just underneath the surf creates archways and canyons that sparkle in the direct sunlight. But don't stay out after dark. The dark lava rock may disorient you.
A steep lava shelf leads right into the water which makes swimming at this beach rather hazardous. But it is the perfect beach for an otherworldly sunset. You can watch the divers come to shore as the sun dips into the ocean to paint the sky orange, red and purple. And the dusk-time purple really pops against the black of the lava rocks.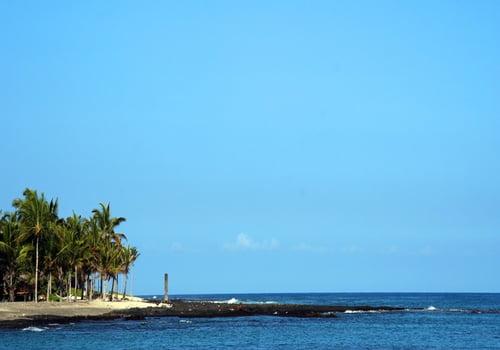 You'll find plenty of trees at the back end of the beach for shade, and you'll have good views of one of The Big Island's tragedies -- the Kona Village Resort. A 2011 earthquake in Japan caused a tsunami that destroyed much of the resort. It's now under renovation for a grand reopening in 2019.
You'll also be able to scope sea turtles in the beach's shallow waters. Adult sea turtles are herbivores, and they love to snack on the moss that grows on lava rocks. They are easy to spot in the crystal clear water. Just don't try to jump in to join them. The current here gets rather powerful.
It is illegal to touch sea turtles in Hawaii. Law enforcement officers protect the sea turtles by handing out tickets to touchy tourists, and the oils in your skin can degrade the turtle's shell to harm the animal. Respectfully take your selfies from a distance.