The ancient Hawaiians were deeply spiritual people but fractured people. Each island was its own kingdom, and warring between the islands was common. And each island was ruled by royalty which some say were appointed by the gods.
Ancient Hawaiian royalty was advised by priests and the community's spiritual leaders. The priests assigned meaning to different parts of each island, and some of Hawaii's landscapes -- like Kaena Point -- remain holy today.
Oahu's Kaena Point is much like Kauai's Polihale Beach. It is believed that souls "jumped off" the islands to the afterlife in these sacred locations. And, fittingly, each of these locations is difficult to find today.
Those visiting Kauai have it a bit easier. Polihale Beach sits at the end of a long dirt road nestled up against the southernmost cathedral cliff of the Na Pali Coast. However, those seeking Kaena Point on Oahu will have to endure a notoriously difficult, long and hot hike across glassy volcanic rock fields. But if you dare to make the trek, you'll be rewarded with tranquility on Oahu's westernmost point, and perhaps you'll understand why the ancient Hawaiians considered this beautiful location sacred centuries ago.
Two Trailheads for the Kaena Point Trail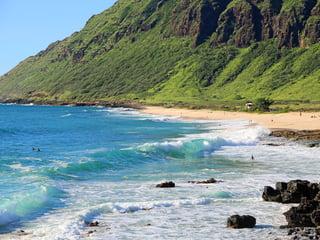 Drive to the westernmost part of Oahu, and the road will simply stop short of Kaena Point. You'll have to park your car and hike 2.5 miles to see this dramatic and isolated landscape. But there are two trails of about equal distance that take you to Kaena Point, and each offers up a unique experience.
You can approach Kaena Point from the north by taking H1 out of Honolulu. Turn north on H2 and then bear left on Route 803 which will eventually turn into Route 930, otherwise known as the Farrington Highway. Simply drive until the road ends, and you'll see the trailhead for Kaena Point.
You can also approach from the south. Simply take H1 out of Oahu and ride until it turns into Route 93. This road will hug the western side, or leeward side, of the island as it turns north. You'll find the trailhead at the end of the road just past Yokohama Bay.

What to Expect Along The Way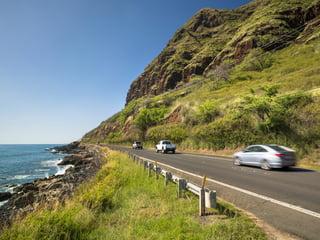 You'll be treated to wide-open countryside no matter which trail you choose. The coast here is rocky with plenty of waves, so you won't be swimming, even at Kaena Point itself. But you will be treated to clear views up and down Oahu's less-traveled coast.
The volcanic rock reaches down into the ocean to create hundreds of reflective tide pools, but be careful if you choose to climb down in order to explore them. The ocean can unexpectedly blast up and over the volcanic rock shelves to pull you into the Pacific. Always check the tide reports before heading out on the trail and never turn you back on the ocean.
You might spot a few intrepid hikers along the way or see a few local fishermen enjoying a day off, but otherwise, you'll have the landscape to yourself. And when the swell is up, you just might be treated to a few small blow holes along your path.
The northern trail is a bit flatter than the southern trail which features rocky switchbacks. But those switchbacks do you give you a slightly better view up and down the coast. No matter which trail you choose, you'll be rewarded with isolation, peace and spiritual tranquility in the most remote part of Hawaii's busiest and most populated island.
Prepare For The Hike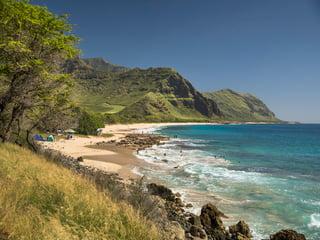 Bring plenty of sunscreens as there is no shade along the route. Apply the sunscreen 15 minutes before sun exposure and reapply the minimum 30 SPF sunscreen every two hours.
There are no water stations at Kaena Point, so pack plenty of water. You should bring at least two liters of water per person on this hot and open hike. And make sure to wear sturdy hiking shoes for all the volcanic rock underfoot. You don't need to worry about sandals because there will be no swimming on this hike.
Beat the heat by arriving at the trailhead early in the morning, and, most importantly, be extremely careful near the water along this hike. There are no lifeguards and you are very far away from help should you fall into the ocean. Plus there are not many hikers to lend a helping hand in this remote part of Oahu.