Pull up a map of Maui. Zoom out. You'll notice that the island is what seems to be two islands fused together. The much larger eastern island is home to The Road to Hana and the indomitable Haleakala Volcano. The smaller western island is home to former whaling stations that have now morphed into resort towns, and you'll find the popular Ka'anapali Beach right in the middle of those romantic little resort towns on the west coast.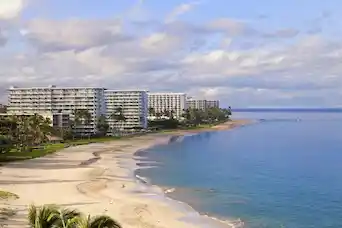 Ka'anapali Beach is three miles of white sand and crystal clear waters. It's also a historical beach for this is where Maui royalty used to live. Now the beach is crowned by one of Hawaii's largest resorts -- The aptly named Ka'anapali Resort.
The Ka'anapali Resort was one of the first resorts planned for the island of Maui. It's massive, and features five hotels, six condos and an open-air shopping area. And you have all of the resort's amenities at your fingertips when you visit Ka'anapali Beach.
With all of this beauty and comfort, it should come as no surprise that this is Maui's most popular beach. It can get crowded on weekends and a bit windy in the afternoons, so, to take full advantage of this west coast slice of paradise, it's best to arrive on a weekday morning.
And it's easy to spend an entire day at Ka'anapali Beach because you can always retreat into a beachside restaurant, shop or bar when the sun becomes too much to handle. In fact, it's a good idea to stay out of the Hawaiian sun between the hours of 11:00 a.m. and 1:00 p.m. when the UV rays are at their most damaging.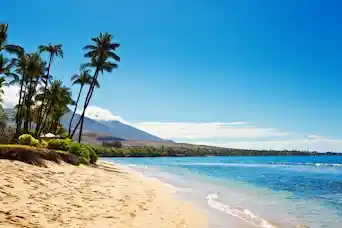 The crystal clear waters of Ka'anapali Beach lend themselves well to snorkeling, and you'll find plenty of marine life around the beach's jetties and cliffs. Cliff jumping is also a popular activity. You'll find a large black cliff on the south end of the beach where a nightly cliff diving ceremony takes place. The diver climbs the cliff to light ceremonial torches before diving into the ocean to the gathering crowd's delight. The Black Rock jump is a reenactment of King Kahekili's remarkable cliff dive decades ago.
You'll also find a zipline near the cliffs at the southern end of the beach, and it's the perfect activity during whale season. Humpback whales migrate to the islands between January and March to breed, and they can often be seen breaching in the deep. So you just might see whales jumping out of the ocean during your zipline.
But don't let all of the activities take your focus off of the beach itself. The incredibly soft white sand, soft ocean bottom and usually calm surf. But despite the beach's popularity, there are no lifeguards on duty. Make sure to check the surf report before going for a swim.
This is one of Hawaii's most popular beaches, so you'll likely be surrounded by a crowd. However, the beach is large enough to accommodate thousands of tourists, so you should be able to find a spot to spread out a bit. And no visit to Maui is complete without a trip to Ka'anapali Beach. After all, this was named the best beach in the world back in 2003.