Honolua Bay is located on the northwestern part of the island and is a Marine Life Conservation District. Since no fishing is allowed, the sea life is very diverse and unlike any other part of the Valley Isle. It's surrounded by high rocky cliffs, so it's sheltered from winds that help keep the waters very calm. There's an old cement boat ramp in the middle, dividing the shoreline in two. Left of the ramp, the sand is a dark powdery gray with intermittent streams flowing into the bay. Right of the ramp, the shoreline is rocky with small boulders. The ramp is the easiest way to enter the water. Once you swim out a little ways, the sand turns a beautiful shade of white and the murky water becomes clear.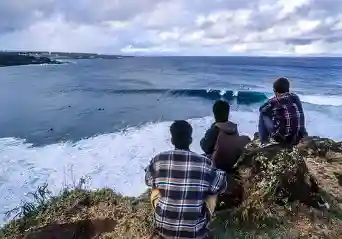 Famous for the surf break, Honolua Bay is known to have some of the best waves of all the islands in Hawaii. Even if you aren't a surfer, when there is a swell from the north, the break is an awesome thing to see. You are safe to snorkel here as the waves are far enough away, you won't be bothered. The center of the bay reaches about 15 to 20 feet in depth. It's one of the best places to snorkel or dive with plenty of colorful fish, sea turtles, and coral. Don't go if it has recently rained as the stream will cause the water to be murky. For something a little different, try snorkeling at night. You'll see critters that only come out then, such as lobster, crab, and nudibranch.

There are no lifeguards, showers, or bathrooms. Plan to bring your own water and snacks. Parking is available for your use, but it's limited. Follow the path down through the trees to the ocean.