You may be a bit underwhelmed when you walk up to this northwest coast Big Island beach, but looks can be deceiving. Holoholokai Beach is one of the wonders of Hawaii. You just have to do a bit of searching.
The beach itself is foreboding. It's covered in large chunks of black volcanic rock and white coral reef. These baseball-sized boulders make this beach rather rocky, and the surf is just as dangerous. There's no swimming here at Holoholokai Beach.
So, what's so impressive about this beach, anyways? Well, for starters, you'll find plenty of facilities at Holoholokai. There are bathrooms, showers, barbecues and plentiful parking. You'll also find Hawaii's largest collection of petroglyphs.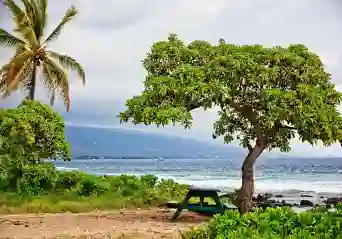 Holoholokai Beach Park is home to the Puako Petroglyph Park as well as the Malama Petroglyph Trail. Take a stroll through the park, and you'll find more than 3,000 ancient drawings etched into boulders. And finding these ancient drawings is half the fun of Holoholokai Beach Park.
After touring the park and marveling at the carvings, feel free to picnic on the rocky shoreline. After all, there are plenty of facilities. And you can even take a refreshing swim, but you'll have to hike for just a few minutes.
Find the Malama Petroglyph Trail at the south end of the beach. Follow the trail down the coastline and you'll emerge onto the Fairmont Orchid's beach. This beach all but belongs to the Fairmont Orchid Hotel. There is no direct access to the beach unless you are a guest, and you just found the only non-guest access to this lovely strip of sand.
The Fairmont Orchid Beach is protected by large volcanic rocks sitting in the water just off the beach. This makes for a reliably safe swim. And you won't find any boulders on this beach. It's nothing but golden sand, so you can leave those watershoes back at the hotel.