The Road to Hana is perhaps Maui's most famous tourist attraction. The road wraps around the massive Haleakala Volcano on the eastern end of the island, and it takes you to hidden waterfalls, tucked away beaches, misty rainforests and authentic Hawaiian towns. And the road ends in the city of Hana. No surprise there.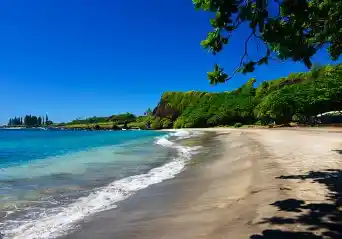 Hamoa Beach is one of the many attractions along the Road to Hana, and it makes for the perfect relaxing pitstop during a day on the road. Its perfect crescent shape, soft sand and sparkling waters make the beach irresistible, especially if you catch a glimpse of it out of the side of your eye while down the road.
The beach is almost perfectly symmetrical, measuring 100 feet wide and nearly 1,000 feet long. The beach is backed by green Hala Trees, the sand is speckled white and black, and the submerged coral shifts the water from dark to sparkling light blue. It's picture perfect.
Unfortunately, the reefs and rocks in the water aren't big enough to keep the Pacific Ocean at bay. During the wintertime, the surf here is usually too powerful for a safe swim. The summertime brings calmer waters, but, even if you're there on a glass-like summer day, you should always keep your wits about you. The conditions can change quickly and dramatically at Hamoa Beach.
The beach is maintained by the Hotel Hana Maui. You'll find beach chairs and separate facilities for guests of the hotel. Guests can also take advantage of a shuttle that brings them down to the beach. But you can take advantage of public bathrooms and showers if you're not a guest of the hotel.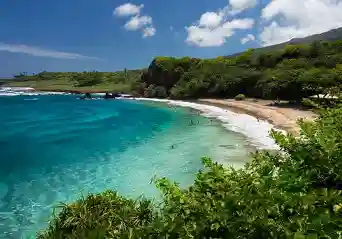 If you're not a guest, you'll have to parallel park on the road above the beach. There aren't a lot of parking spots to go around, but, if you're lucky enough to secure a spot, there are two ways down to the beach. You can descend into the cove using a provided staircase, or you can walk down the Hotel Hana Maui's shuttle road (do not drive down).
You'll notice plenty of surfers and boogie boarders in the water taking advantage of the beach's reliable break. Only join them if you're experienced enough to handle the exposed surf. But, if the water is calm, there is good snorkeling near the left hand side of the cove. Just stay vigilant when snorkeling. Currents can take you out to sea.
Find the beach on Haneo'o Loop Road. You can find the ends of the loop road at mile markers 50.1 and 49.1 on the Road to Hana. The beach is one of the easternmost points of Maui.