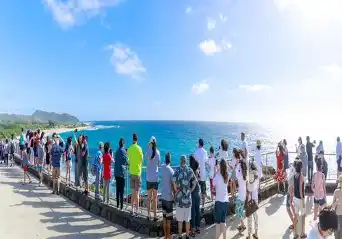 You'll find the Halona Blowhole right next to Cockroach Cove. The blowhole lookout sits above a large lava shelf, and, on a clear day, you'll be able to see all the way to Molokai, Maui and Lanai. And you'll find one of the most dangerous stretches of ocean in the world at this lookout. The channel between Maui and Oahu features unpredictable and powerful currents that are famous for wrecking ships, but that doesn't stop an annual swim race across the channel. Only 28 people have successfully swam between the islands.
The swirling waters of the channel send powerful waves towards the lava shelf. The water batters the coast, but, at the spot of the blowhole, the waves shoot into a cave beneath the shelf. The water then spouts out of the blowhole to send mist high into the sky which creates a quick, beautiful and temporary rainbow.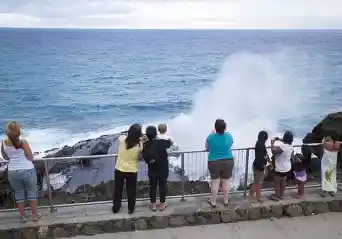 The blowhole might be beautiful, but you should take extreme caution if you choose to approach the natural wonder. Only one person has ever survived an encounter with the powerful geyser. A 19-year-old soldier was sitting at the edge of the blowhole when the spout sucked him down about eight feet. He sat in a cave the size of a sedan for a moment before another wave struck him, forcing off his pants and a ring on his finger. He was sucked out into the ocean and rescued. Keep a safe distance from the blowhole at all times.