Kauai has but one main road. Drive the Kuhio Highway south from Lihue and it will eventually turn along the southern coast until it heads west. You'll watch as the landscape dramatically changes from wet rainforest to dry rolling hills. And you'll eventually drive up and over one massive hill covered in Kona coffee trees. That's when you know you've made it to the west side of the island.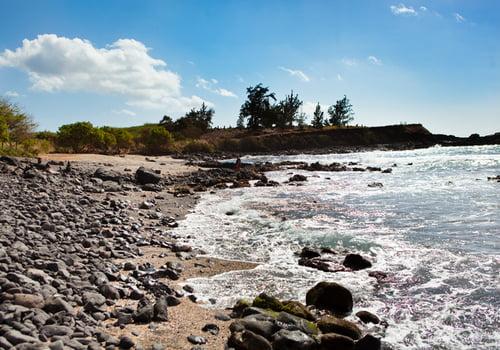 As you crest the hill, you'll be presented with a sweeping view of the west coast. You'll also get a sore eyeful of Kauai's only power plant sitting right in the middle of the vista. This is where the locals have decided to hide the industrial necessities of the island.
As you descend the long slow slope of the western side of the island, you'll cross a bridge in the town of Eleele right next to the beautiful little town of Hanapepe. Just before you cross the bridge connecting the two towns, take a left on Waialo Road just before the McDonalds. Drive to the end of the road to find Glass Beach.
This is one of Hawaii's unique gems, but its beauty stems from human tragedy. For decades, west coast companies were allowed to dump their trash at Glass Beach. This included industrial glass. And that's why you'll find an array of sea glass mixed in with the rocky sand at Glass Beach.
Sea glass is just normal man-made glass that has been tumbled, rolled and ground down by the ocean. Pick up a handful of sand at Glass Beach and you'll likely pick up a rainbow array of sea glass. Industrial waste is now prohibited at the site, but all of that sea glass -- the reds, oranges, greens, browns, and dark blues -- is the result of pollution 10 to 30 years ago. It's a wonder what mother earth does with our man-made waste.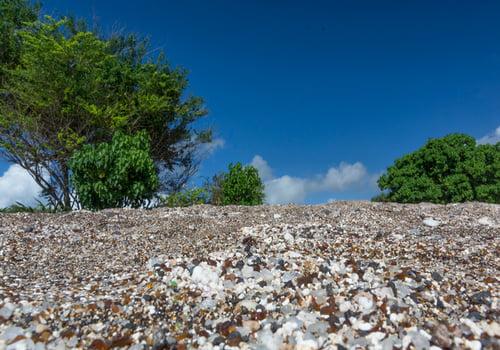 Glass Beach is not the most picturesque beach on Kauai or on the west side of the island. It sits right in the middle of an industrial zone. The water is also open to the powerful Pacific Ocean. There is no protective reef, so swimming at Glass Beach is rather dangerous. You're best to visit the beach in order to look at the strange beach glass. Then you should be on your way to more beautiful sights on Kauai's west coast.
For example, the small town of Hanapepe is a two minute drive from Glass Beach. Simply turn off the Kuhio Highway at the billboard advertising the town. You'll find cute little shops, cafes, restaurants and an antique book store in the beautiful little village. And you can walk across the river on a wobbly suspension bridge right in the middle of town. It's worthy of a social media pic.