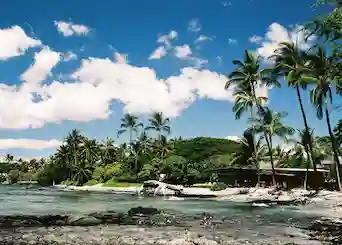 The Fairmont Orchid Beach is named after the hotel that rises just behind the sand -- the Fairmont Orchid -- and you won't be able to access the beach directly unless you're a guest. But, if you're not a guest, getting to this beach is half the fun. The journey starts just north of the beach at Holoholokai Beach Park.
Find the Fairmont Orchid Hotel and then turn right onto Holoholokai Beach Park Road. This windy road will take you past Puako Petroglyph Park. You'll find a roundabout at the end of the road, and you'll want to park as far south as you can.
Walk to Holoholokai Beach where you might be a bit disappointed. The beach is made up of baseball-sized black rocks mixed in with large chunks of white coral. It's quite a sight, but it's not going to be comfortable underfoot. And swimming at this beach is not advised. The currents and waves are strong throughout the year.
Walk to the south end of the beach to find a trail to the much softer Fairmont Orchid Beach. This is the Malama Petroglyph Trail, and you'll be blown away by all of the ancient markings in the rocks. The hike connects you with the history of the ancient Hawaiians as well as the United States of America. After all, Hawaii is America's 50th state.
In just a few short minutes, you'll emerge onto the Fairmont Orchid Beach. You'll have to bring a beach towel or you'll have to tote your own beach chair because the lounge chairs on the beach are reserved for guests. Or you could simply take a seat to pretend to be a guest at your own risk.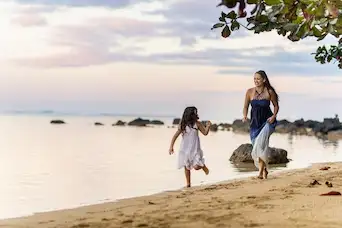 The water at the Fairmont Orchid beach is perfect for a safe swim. There are large volcanic rocks that sit just off the beach to form a semi-circle, and this protective halo of rocks shields the beach from violent ocean currents. You'll also find the beach rather soft with golden sand. You won't have to worry about stubbing your toe on volcanic rocks in the shallows, so you can leave those water shoes at home.
When the water is calm, you can venture outside of the protective halo of rocks for a beautiful snorkel. Tropical fish and sea turtles love to eat around the base of the rocks. Just remember that there are no lifeguards on duty at this beach. You swim at your own risk. Only leave the protective cove if you are extremely confident in your swimming ability and the water is calm. Any current could throw you up against the rocks, or, worse yet, pull you out to sea.