D.T. Fleming introduced the island of Maui to the pineapple, and the Hawaiian islands are ripe for life. The year-round heat and humidity of these tropical isles allows plants, animals and people to flourish, and thus an industry was born. As a sign of respect, Maui has named this wonderful white sand beach after the fruit monger.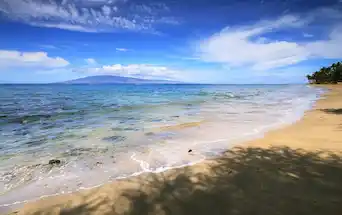 It's a fitting tribute because this beach is sweet. It's a beautiful beach to just plop down a chair and people watch. The entire 500-yard length of the beach is backed by shade-giving ironwood trees, so you can make an entire, comfortable, lazy day here on the west coast of Maui.
To get to this popular beach, you simply drive north on Highway 30 out of Lahaina to Kapalua. Turn left towards the ocean on Honoapiilani Drive which will turn into Bay Drive. Bay Drive should take you right to the beach with its ample parking.
This is a long, wide beach. And that's a good thing because Fleming Beach can become quite crowded on the weekends. The beach can also become a bit windy in the afternoons. So, if you're looking to take full advantage of this beach, you should show up in the mornings on the weekdays.
And you'll want to bring your boogie board. This is the perfect beach for bodyboarding and boogie boarding. The water features a comfortable sandy bottom, and the surf breaks long and slow to give you ample time to catch some waves. Fleming Beach is the perfect spot to learn how to catch a wave if you've never done it before.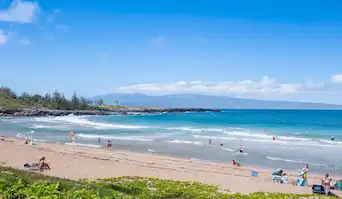 You can snorkel, but the water here tends to be a little cloudy. It's best to save your snorkel gear for another beach. But you will find plenty of amenities at Flemings, including picnic tables, restrooms and outdoor showers. You'll also have the benefit of having a lifeguard on duty during the day.
You'll want to ask the lifeguard where to swim at Flemings. That's because the water here can get dangerous under the right conditions. Or you can skip the hassle and check the surf report online before driving to Maui's northwest corner.