Just north of Kapaa, you'll find the turn-off for Donkey Beach. There is a small paved parking lot on the right-hand side of the Kuhio Highway that is well signposted. From the parking lot, you'll have to walk down to the beach through a hall of trees on a well-made pathway.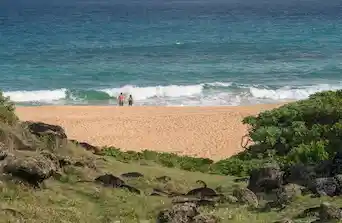 Take a few seconds to look into the trees along the path. You'll find massive spiders hanging inside of impressively huge spider webs waiting for a meal. These spiders are harmless and make for a great pic, but it is quite a challenge to capture the size of the spider and the reflection of the web in a single photo. If you do snap a great pic, be sure to share it with the world via social media.
You'll run into the Kauai Coastal Pathway on your way down the beach. The 2.5-mile long paved path takes walkers, joggers and bikers up along the east coast of the island. If you're staying in Kapaa, have a bike or are up for an excursion, the path is a great way to get to Donkey Beach.
The paved path will narrow into a dirt walkway. You'll have to walk through some shrubs and duck under some short trees to get out to the beach. The beach is stunningly blue which makes for a great contrast against the green of the coastal trees. And not many tourists make it down to Paliku Beach making it the perfect spot for a picnic.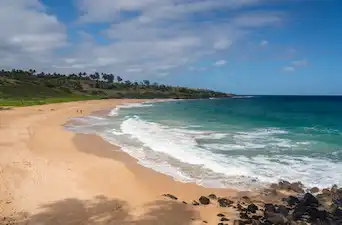 You can set your blanket under the shade of trees at the back end of the beach's white sand, and you can gaze out over the open ocean water. Swimming at Donkey Beach is not highly recommended. The shore is rocky and the surf can be dangerous. Plus, there are no lifeguards.
Be sure to take a sombre moment while scanning the beach. You'll notice that there are thousands of plastic bits and chunks washing ashore. It seems that all of the trash on the west coast drifts out to sea to make its way to Hawaii's beautiful beaches. And you might even recognize Japanese products in the plastic bits, as well.
If you'd like to act with a little Aloha, you can protect Hawaii's Ohana by hauling some of the bits out with you. Of course, it seems futile, but the beaches will be cleaned if a good portion of tourists grabbed just a few chunks.