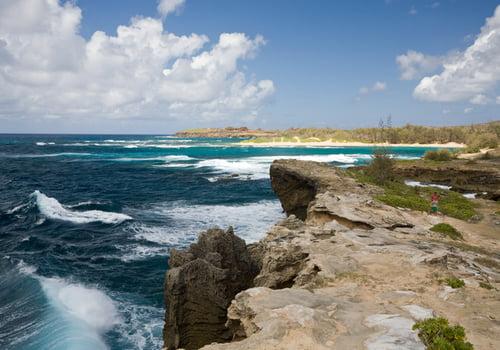 It takes skill to catch a wave just right. You have to start swimming just before the wave arrives, and then you have to straighten out your body just in the nick of time. The curl of the waves will pick you up, and you can body surf for as long as the wave will carry you. There's nothing like it. The water rushes around your body to create tickling bubbles, and, if you catch the wave just right, you can stick your head above water to show everyone your excited smile.
Body surfers flock down to Brennecke's Beach on the south shore of Kauai for reliably good waves. This small strip of sand is sandwiched in between two natural jetties of black volcanic rock. And you won't find anyone lounging on the beach here. The waves are too good for a relaxed lay on the sand. They beckon even the novice body surfer.
You can find Brennecke's Beach by following the signs to Poipu Beach Park. Feel free to park your car anywhere in the Poipu Beach parking lot. Get out of your car and look east to find a two-story white building. That's Brennecke's Seafood Restaurant. You'll find Brennecke's Beach just in front. Lucky for you, it's removed from the crowds of the more popular Poipu Beach.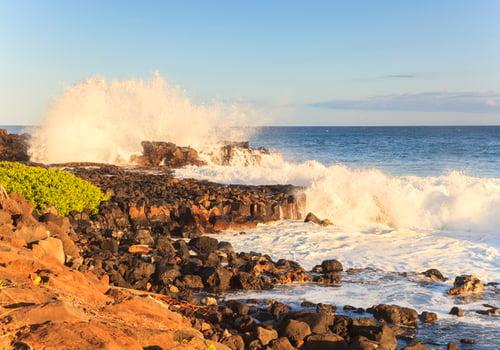 The waves here are reliably good in the summer, but you should always check the surf report in the winter. That's when the big waves come to Kauai, and Brennecke's Beach might be a little too violent for a good body surf.
Brennecke's Beach allows you to make a full day out of the southern coast of Kauai. You can start the day at Brennecke's Beach by catching a few waves using your body or a boogie board. Then, when your energy gets a bit low, you can walk across the street to enjoy some seafood for lunch.
After lunch, you can walk over to Poipu Beach to let the food digest. Poipu offers up calm, protected waters for the whole family. You'll also find bathrooms, showers and barbecues for a full day at the beach. After the food is done digesting, you can take advantage of the calm swimming waters of Poipu Beach before heading home. Of course, you could always pop back over to Brennecke's Beach for another body surfing session before heading back for the day.