Oahu isn't just the big city of Honolulu. You can rent a car to jet to the north side of the island where a laid-back feel, giant waves and beautiful beaches await. And its these giant waves that draw the best surfers in the world.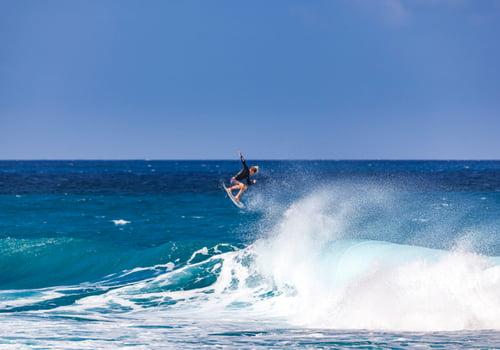 You can drive up to Waimea Bay, Ehukai Beach and Sunset Beach to see the best surfers in the world ply their craft. And after seeing the insane surf, you'll know why the world's premier surfing competitions takes place on the north shore of Oahu, including the ultimate competition -- The Vans Triple Crown of Surfing. Of course, you'll have to pop up to the north during the winter months to catch these insane waves.
The winter brings a bit of rain, slightly lower temperatures and more violent surf to the Hawaiian islands. You'd be hard pressed to feel the difference in temperature between winter and summer, and the short afternoon rain showers are barely noticeable, but you'll definitely notice the difference in the water. The waves are taller, the currents are stronger and the swells are higher in winter. And its these winter waves that create epic surfing conditions.
But, if you happen to visit Oahu during the summer, you should still pop up to the north shore. It's great to escape the faster pace of Honolulu for the country feel of the north shore, and the smaller summer waves make for great cliff jumping.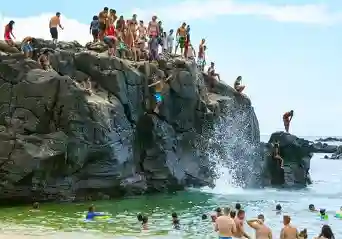 There are a couple of great spots for ocean cliff jumping on the north shore (Laie Point was made famous in the movie Forgetting Sarah Marshall), but none are as exhilarating as the cliffs in Waimea Bay. The summer months bring calm water to the bay which makes its cliffs perfect for jumping. You're bound to see a group of adventurers taking advantage of the thrill, and you should join them if you're an adrenaline junkie.
But the calmer summer months also bring baby waves. That means that the big wave surfers have left the island which clears up room in the water for you. Surfing lessons are abundant on the north shore during the summer, and there's no better place to learn the sport than where it was invented.