Affectionately referred to as A-Bay, this strip of sand is perfect for a safe swim. The water at this beach may not be as clear as some other beaches, but it is always calm. This makes A-Bay and all of its history perfect for families. It's also an excellent place to learn stand-up paddle boarding in the calm, placid waters.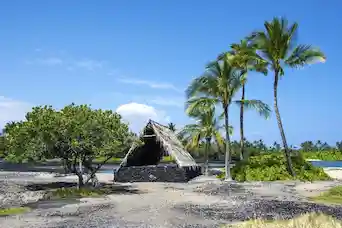 And you'll be able to find a paddle boarding instructor rather easily. This popular beach has plenty of infrastructure. Just beyond the shade-giving palm trees that line the sand are resorts with bountiful amenities. You can easily spend an entire day at A-Bay, and you can stay out of the midday sun by grabbing lunch at one of the many nearby hotels or restaurants. You're even a 15-minute walk from the Queen's Marketplace.
You can walk up to the hut at the north end of the beach to get yourself a stand-up paddle board lesson. You can also rent paddle boards, kayaks, boogie boards and snorkel gear. You don't even have to haul your own equipment down to this picturesque beach.
A-Bay is one of the best places on the Big Island for a beautiful sunset. Take your best camera down to the beach in order to capture the palm trees against the warm oranges, reds and purples of the dusk sky.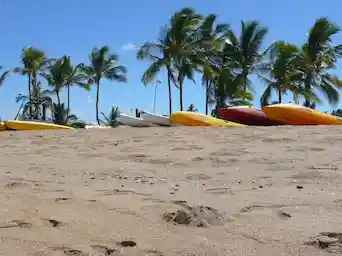 This beach has an interesting and ancient feature -- the Kuualii Fish Ponds. This ancient marvel of engineering helped native Hawaiians catch fish. The fish would swim into the ponds from the open ocean through a small inlet only to get trapped. The trapped fish were easy targets for hungry Hawaiians, and many of those fish were served at ancient luaus. Interestingly enough, the fish pond behind the beach is still being maintained.
You'll find a pathway towards the Waikoloa Beach Marriott Resort and Spa near the north end of the beach. Take a walk down the path for informative signs. Each sign will teach you about the history of the area, which was once a thriving fishing village, and the signs will point you to historical sites like ancient temples and petroglyphs. It's a great way to get to know the history of your country. After all, Hawaii is the 50th state.
The walk down the pathway will take you along the north end of the fish ponds. This is your opportunity to look for marine life in the shallows. Many have spotted moray eels as well as a plethora of tropical fish, and, when the walk is over, you get to come back to the black-and-white sand beach. A-Bay is a mixture of beautiful white sand and volcanic pebbles to give the beach a salt-and-pepper look. A-Bay is a one-of-a-kind destination on the Big Island.