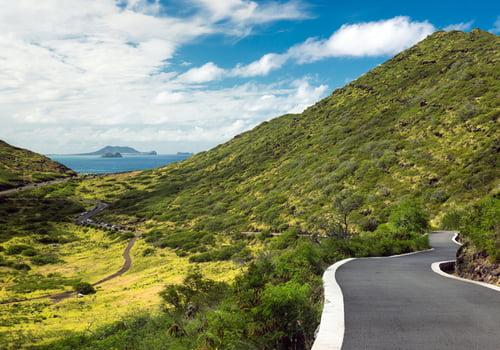 The state has recently made improvements to the Makapu'u Lighthouse Trailhead, so there is plenty of parking for this popular hike. You'll be sharing the trail with families, tourists, locals, strollers, and dogs, but that's what gives this hike energy. And you'll be able to share the magnificent view from hike's observation deck with people from around the world.
You'll find this hike on Oahu's southeastern-most point. The lighthouse, which is off-limits to hikers, is a shining beacon that warns oncoming ships of the rocky coastline below. And the trail is made all the more beautiful at sunrise when the sun emerges from the Pacific Ocean beyond.
Make sure to take this hike on a clear day. You'll be able to see all the way to Molokai and Lanai. And, if you want to avoid the crowds, get to the parking lot early in the morning.
The paved trail winds its way atop a cactus-covered hillside. There are no trees to block the view of the ocean below, and the trail keeps a safe distance from the southeast coast's ocean cliffs. It's a safe and easy hike for the whole family.
You'll get to the lookout platform in just under a mile after some mild elevation gain. There, you'll get stunning views of the hilly coast, the lighthouse and Koko Crater with its bent rim. And it's an even easier walk downhill back to the parking lot after you've snapped a few stunning photos.